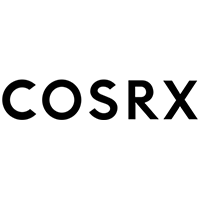 Established in 2013, Cosrx quickly gained popularity amongst skincare lovers with its simple and innovative approach to resolving skin problems. The brand was ranked No.1 in the skincare category by the YouTuber Research Institute big data and its products have received multiple awards from various Korean and overseas contests.
The brand name "Cosrx" is the combination of "Cosmetics" and "Rx", which reflects the brand's mission to resolve skin problems.
Cosrx's brand slogan is "Expecting Tomorrow", which demonstrates their attitude towards innovation. This can be seen from many of their products utilising the latest technology and effective ingredients.
Many of Cosrx's products only use a handful of ingredients to minimise the extra burden on problem and sensitive skins and maximise the efficacy of the product. Customers can easily understand from the active ingredient the key function of the product and benefits to the skin.
Cosrx's star product is their Acne Pimple patches, which is a gel patch that's applied to active pimples, to reduce contact, inhibit bacteria spread and expedite the healing of the breakout. By using the patch, pimples heal much faster, painlessly and the risk of scarring is significantly reduced.
Check out Cosrx's Acne Patch Range:
Cosrx currently has 8 product lines targeting at various skin concerns:
FULL FIT with Propolis Extract to improve the skin's resilience, radiance and elasticity.
PURE FIT with Cica Complex to soothe irritated and inflamed skins and strengthen the skin's natural barrier.
SHIELD FIT for sun protection.
REAL FIT with high concentrations of active ingredients such as Vitamin C, Vitamin E and Retinol to rapidly transform the skin and protect against aging.
ONE STEP pads for those looking for multi-tasking quick fixes on the run, in the gym or slept-in days.
HYDRIUM with Hyaluronic Acid and Panthenol to deeply hydrate and plump the skin.
BALANCIUM with Ceramide to repair the skin barrier and provide long-lasting moisturisation for the relief of dry skins.
AC COLLECTION with Centella complex to combat against acne.
Other long-time staple products from Cosrx since the beginning of their brand launch include:
We love Cosrx because:
Their products have a good potency of active ingredients to make the products effective.
Their products are formulated with mostly EWG green rated ingredients.
Their products are very well priced.
We recommend Cosrx to those people who are:
Looking for effective treatments to combat acne
New to acids and would like to experiment with AHA and BHA products
Oily skins
Having problems with enlarged pores