Before trying the Moonshot Micro Setting Fit Cushion, I've heard so many great things about it so I had very high hopes. But we all know every product has its good side and the not so good side, so today I'll let you know what I liked and didn't like about the Moonshot Micro Setting Fit Cushion.
Packaging
Moonshot Micro Setting Fit Cushion comes in a sealed paper box with a galaxy background and a cute astronaut next to the product name. I'm not too familiar with the brand story, but I guess the galaxy theme is corresponding to "moon" in "Moonshot". The cushion case is pretty normal – nothing too different from all other cushions I've seen. I personally think the holographic and the black doesn't go very well.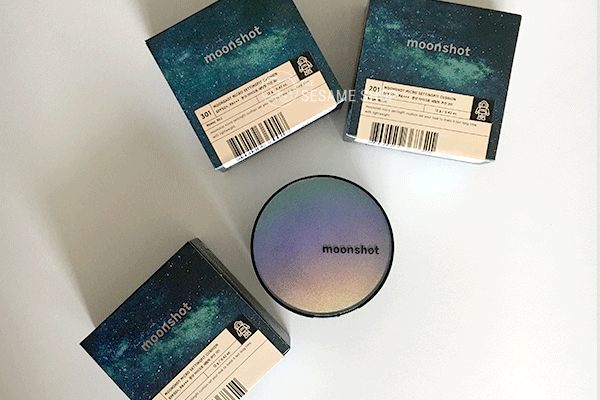 I was surprised to see that there is no refill included, so you get 1 piece of 12g of product. Refills are sold separately for 18,000 Won. The original cushion with the case is sold for 28,000 Won.
Open up the cushion, there is Moonshot's signature teardrop puff. The puff has a good thickness so it's soft and cushiony. It feels velvety smooth. The purple colour is a nice change from the beige/black/blue variations.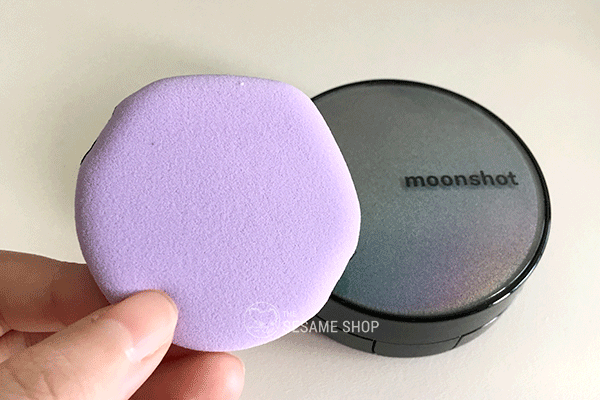 Open up the lid, the cushion part has a very cute seal with the same cute astronaut. The lid closes tightly which keeps the cushion from drying out. The cushion sponge is again pretty normal, with large pores that soak and release the product.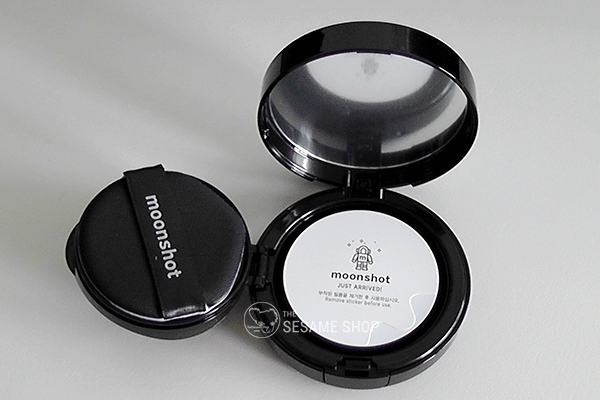 Overall, the packaging is practical but quite ordinary, although there are a few cute elements in it. It doesn't feel classy, high-end or anything special. To be honest, most cushions I had are prettier than this. Are you curious how this not-so-pretty-looking cushion can be loved by so many beauty bloggers?
Colour
Moonshot Micro Setting Fit Cushion comes in 3 colours: 101 Ivory, 201 Beige and 301 Honey (not shown). It didn't follow the normal range of 21~23 colour system for Korean foundations. According to Moonshot, 101 is about 19~21, 201 is about 22~23 and 301 is 23~24.
The colours look a lot darker in the pan, so don't be scared.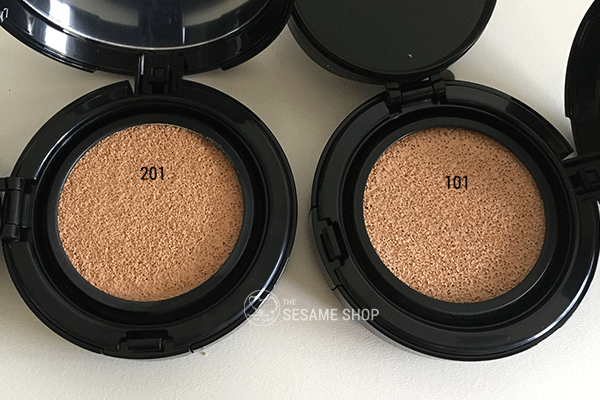 Below are swatches for colour 101 and 201. You can see 101 is more pink toned while 201 is more yellow toned.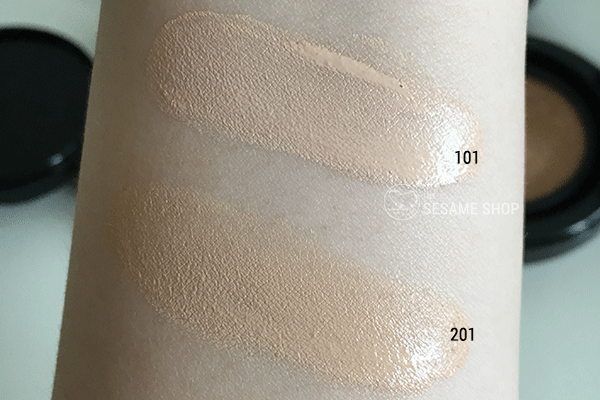 I also compared both colours with two other foundations I have at hand: the Klairs Illuminating Supple Blemish Cream and the Shiseido Perfect Refining Foundation in O20. Klairs is slightly darker than 101 and a lot more neutral/yellow toned. 201 is darker than Klairs and more yellow toned. Shiseido O20 is the darkest and most yellow toned, which is likely to be closer to 301.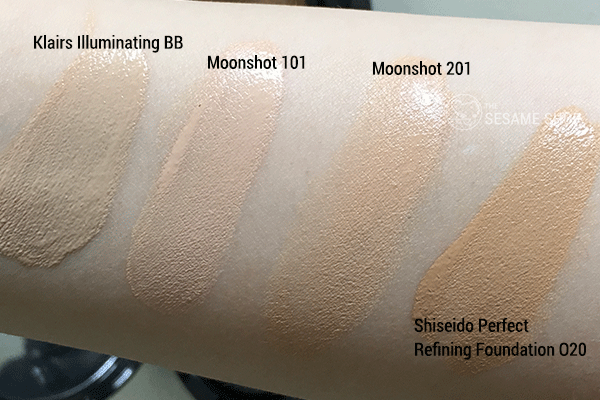 I found the colour swatches on the official website to be very close to the real colours.
201 is slightly too dark for me, but I've been wearing it fine every day. Cushions are more forgiving even if the colour doesn't match exactly, it shows less on the skin due to its lower pigmentation.
Scent
This cushion has a very slight fragrance. It's almost undetectable unless you put your nose right in front of the pan.
Texture/Application
The cushion is quite spreadable, I press the puff once and it's enough to cover half my face.
The selling point of this cushion is its quick settlement. Dabbing the puff on the skin, it feels slightly wet. But after spreading it out, it settles to a semi-matte finish. There are some transfers at this point, but quite minimal. After it completely sets, it's transfer-free, there is no need for a separate setting powder.
I think this feature and the semi-matte finish would appeal to certain people but not everyone. If you have dry skin, you'll probably not like it. It also becomes important to prep the skin with a primer, as it would accentuate large pores and dry patches if you don't smooth them with a primer first.
For me, I've been using more radiant products for a while, so I didn't really enjoy the semi-matte finish that much – it was a bit too matte for my liking. But since it's summer, I was ok by using it with a setting spray to take away some of the matte-ness.
A good thing about this cushion is that it's very lightweight. You can't feel it on the skin even with several layers. So it's very comfortable to wear.
Finish
Moonshot Micro Setting Fit Cushion has a semi-matte finish. If you use a radiant primer, it would tone it down. The cushion does show up on the face due to its finish and coverage – another downside for me, I prefer my makeup to be invisible, but it can be toned down with a setting spray.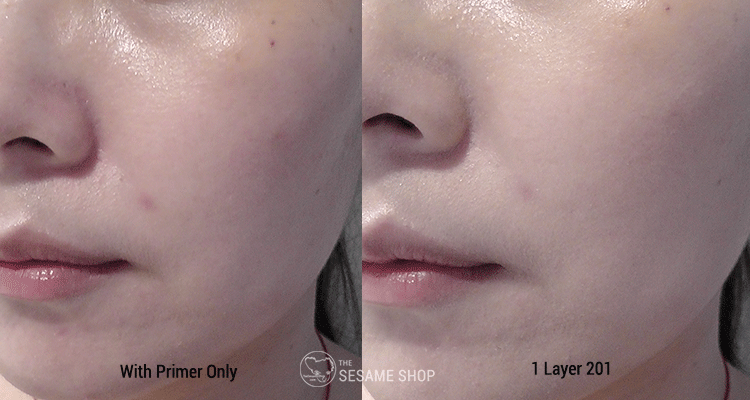 Coverage
Moonshot Micro Setting Fit Cushion offers medium coverage. With 1 layer of application, it's able to cover about 50% of my large acne scar and most of the redness around my nose.
It doesn't become cakey after layering, but you can see it getting heavy on the skin.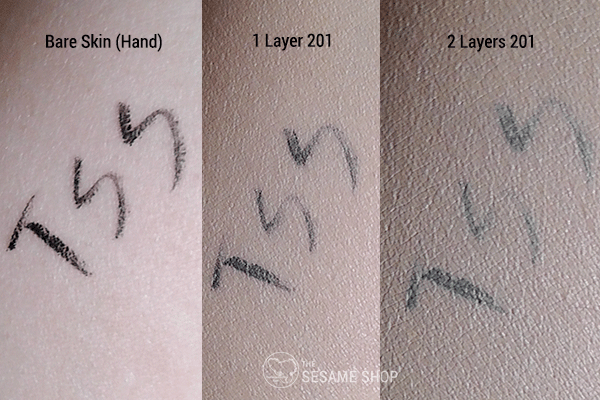 Lasting Power
The lasting power of this cushion is the whole reason I continued using it every day. This cushion is the type that becomes more natural as time passes. It mixes very well with the natural sebum and gives a very nice glow.
It doesn't transfer much during the day and is able to last for a full 12-hour working day. It doesn't bunch up around the nose or crease up.
It also doesn't feel dry during the day, which is important to avoid excess sebum production.
Price
Moonshot Micro Setting Fit Cushion retails for 28,000 Won (~$35.2 AUD) for 12g of product with cushion case. Refills retail for 18,000 Won (~$23 AUD). It's department store mid to high-end price. (eg. Laneige BB Cushion is 37,000 Won for 15g*2, IOPE Air Cushion Natural is 42,000 Won for 15g*2, Hera UV Mist Cover Cushion is 50,000 Won for 15g*2).
I feel the quality of this product is worth the price. You wouldn't get anything similar in the road shop range, even compared with Clio, Moonshot is a lot better.
Verdict
Moonshot Micro Setting Fit Cushion is a great cushion, especially for oily to normal skins. It may not be as friendly for dry skins due to its matte finish. Sensitive skins will like this because it's not heavily fragranced and feels weightless on the skin. It's definitely more for summer than winter. If you prefer semi-matte finish, you'll love it.
Where to buy Moonshot Micro Setting Fit Cushion?
Related Posts