Clay mask is one thing that my skin cannot live without. It feels so good to pull out all the gunks in the pores at the end of a long week. I love the feeling of lighter, softer and more breathable skin. By Ecom Heartleaf Purifying Mask is my go-to clay mask lately (out of 7 other clay masks sitting in my cabinet). I love how gentle it is and it does such a great job at cleansing the pores.
Packaging
By Ecom Heartleaf Purifying Mask comes in a clear plastic tube. Tubes are always much more hygienic, but I especially like clay masks coming in a tube. Unlike tubs, the tube packaging keeps air out, preventing the mask from dry out or getting hard. With the clear packaging, you can see exactly how much product is left. The product has a very smooth texture, therefore it has no trouble getting out of the small hole. Overall, the packaging is functional, sleek and approved for travel.
Ingredients
Houttuynia Cordata Extract, Kaolin, Glycerin, Bentonite, Dipropylene Glycol, Titanium Dioxide, 1,2-Hexanediol, Stearic Acid, Panthenol, Butylene Glycol, Centella Asiatica Extract, Ficus Carica (Fig) Fruit Extract, Melia Azadirachta Leaf Extract, Chamomilla Recutita (Matricaria) Flower Extract, Algae Extract, Eclipta Prostrata Leaf Extract, Vaccinium Myrtillus Fruit Extract, Saccharum Officinarum (Sugar Cane) Extract, Citrus Limon (Lemon) Fruit Extract, Citrus Aurantium Dulcis (Orange) Fruit Extract, Acer Saccharum (Sugar Maple) Extract, Hydrogenated Lecithin, Cetyl Alcohol, Tromethamine, Houttuynia Cordata Powder, Magnesium Aluminum Silicate, Xanthan Gum, Algin, Chromium Oxide Greens, Camellia Sinensis Leaf Powder, Madecassoside, Oryza Sativa (Rice) Powder, Oryza Sativa (Rice) Hull Powder, Chlorella Vulgaris Powder, Fructo-Oligosaccharides, Illite, Lecithin, Beta-Glucan, Montmorillonite, Alcohol, Hydrolyzed Hyaluronic Acid, Ceramide NP, Calcite, Pistacia Lentiscus (Mastic) Gum, Ethylhexylglycerin, Pentylene Glycol, Caprylyl Glycol
The first ingredient of this clay mask is Houttuynia Cordata Extract. I've expressed my love for this ingredient in a few posts now. Houttuynia Cordata or heartleaf, has similar functionalities as the much-raved Centella Asiatica, providing calming, anti-inflammatory and healing effects to the skin. In addition, it brightens the skin. Further down the list, this mask also contains Houttuynia Cordata Powder, so By Ecom is serious when they called it the "Hearleaf" mask.
Then we have Kaolin and Bentonite, which are the clay components of this mask. Bentonite is stronger for detoxifying but more drying, whereas Kaolin is much more gentle.
Also high on the list are hydrating ingredients such as Glycerin, 1,2-Hexanediol, Panthenol and Butylene Glycol.
Then it's a long list of botanical extracts. Highest on the list is Centella Asiatica Extract. A few other notable ones include Neem, Chamomile, Algae and Rice extracts.
This mask also contains bits of green tea leaves for antioxidant, hydrating and brightening effects.
Colour
Creamy light green colour.
Scent
It has a green tea scent, not too overpowering.
Texture
By Ecom Heartleaf Purifying Mask has a very smooth and creamy texture. It has the perfect balance of water versus clay. It spreads without any effort but doesn't drip or spread too thinly. This texture allows it to be applied in a good thickness, covering the pores, but not drying up too quickly.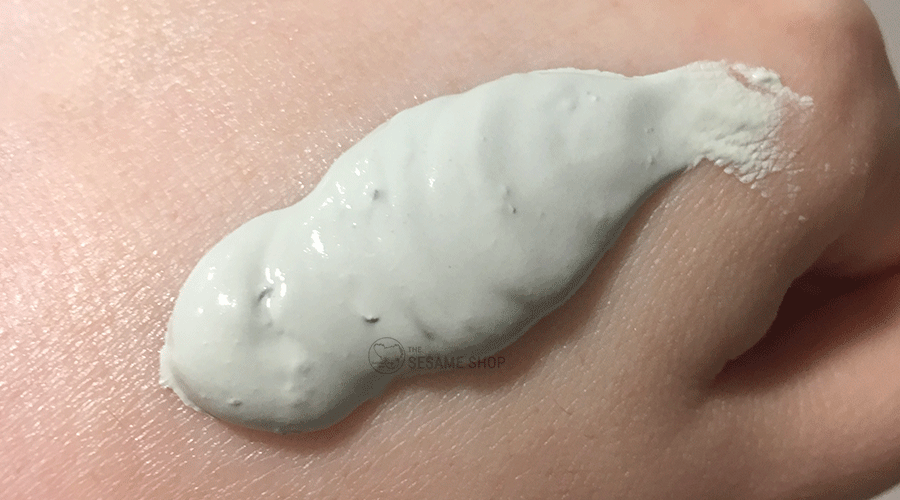 The green tea leaf bits infused in the mask are softened, therefore, there's absolutely no abrasion.
Application
I normally take a generous amount on the back of my hand and apply it all over my face, leaving out the eye and lip area.
It feels very gentle on the skin, doesn't sting or cause any tightness. I've accidentally gotten it in my eyes without any irritation – just love the gentleness.
This mask drys relatively slowly. After about 15 minutes is when it'll start to crack slightly. But it doesn't flake too much. You should wash it off before it starts to crack.
This mask rinses off very easily without any residue. The green colour doesn't stain my washcloth.
Results
The skin feels clean, light and soft.
Using this mask 1~2 times a week gas really helped my pores to stay clean. Every time I use this mask, my skin feels de-congested, calmed and brightened.

Price
By Ecom Heartleaf Purifying Mask retails for 33,000 Won (~AUD $41.25) for 120ml of product. It is quite expensive for a clay mask, especially when you can get Innisfree Clay Masks for less than 10,000 Won. But if you ask me, is it worth it? Definitely. Ever since I got this mask, I haven't touched any of the Innisfree Clay Masks sitting in my cabinet. By Ecom is much cleaner (better ingredients & less chemicals) and much gentler on the skin.
Verdict
To get that healthy and glowy skin, clay mask is a must. By Ecom Heartleaf Purifying Mask is one that I couldn't replace at the moment.
Where to Purchase?
Related Posts