Hyaluronic Acid is probably one of the most common ingredient used in skincare. The power of Hyaluronic Acid lies in its ability to bind and hold up to 1000 times its own weight in water, thus attract and retain moisture in the skin. A higher moisture content in the skin will not only ensure it is soft and plump, but also means a good balance of water/oil and a healthier skin barrier. Therefore, although Hyaluronic Acid may seem like a basic, not-doing-much ingredient, it is really an all-rounder for a vast range of skin problems such as dehydration, acne, sensitivity, dull and saggy, aging and wrinkle, etc. The benefits of Hyaluronic Acid are closely associated with the skin's health and resilience, which are the keys to maintaining blemish-free and youthful skin.
In this post, I'll review the Torriden Dive-In Serum, which is a low molecule Hyaluronic Acid serum. It is one of the top-rated skincare products in the Hwahae app, received over 21,000 reviews and an average rating of 4.46/5. After using this for over a month, I can completely understand the reason behind this high rating. It has a beautiful texture that penetrates so well into the skin and serves as an all-rounder for hydrating, soothing, plumping, softening and lifting the skin.
Packaging
★★
This is weakest part of Torriden's products, I wish they put a bit more effort into their packaging to match the quality of their products. The serum comes in a clear, plastic dropper bottle. The cap has uneven edges that pokes the finger and the plastic bottle also has uneven finishes. To me, this packaging is certainly below average amongst all other K-beauty, which is often very well made.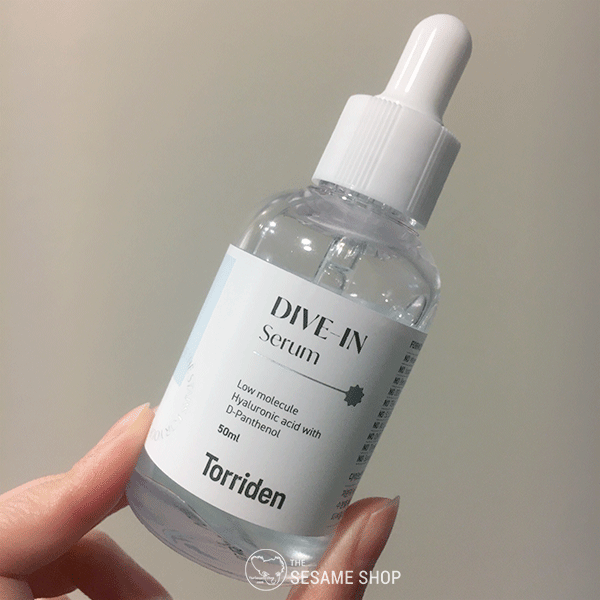 Ingredients
★★★★
Purified Water, Butylene Glycol, Glycerin, Dipropylene Glycol, 1,2-Hexanediol, Panthenol, Sodium Hyaluronate, Hydrolyzed Hyaluronic Acid (500 ppm), Sodium Acetylated Hyaluronate, Sodium Hyaluronate Crosspolymer, Hydrolyzed Sodium Hyaluronate, Allantoin, Trehalose, Betaine, Propanediol, Portulaca Oleracea Extract, Hamamelis virginiana (witch hazel) extract, Madecassoside, Madecassic Acid, Ceramide NP, Beta-Glucan, Malachite Extract, Cholesterol, Pentylene Glycol, Glyceryl Acrylate/Acrylic Acid Copolymer, PVM/MA Copolymer, Polyglyceryl-10 Laurate, Xanthan Gum, Tromethamine, Carbomer, Ethylhexylglycerin, Scutellaria Baicalensis Root Extract, Paeonia Suffruticosa Root Extract
The few ingredients on the top of the list are generally solvents and hydrators commonly used in skincare products. Butylene Glycol helps the product to penetrate deeper and absorbed faster. Glycerin is a commonly used hydrator that's super safe and non-reactive. Dipropylene Glycol controls viscosity and moisturises. 1,2-Hexanediol is a solvent, humectant and preservative.
Then down the list we have Panthenol and various forms of Hyaluronic Acid. Panthenol is another great humectant that helps with wound healing and supports the skin barrier. Sodium Hyaluronate is the basic form of Hyaluronic Acid. Hydrolyzed Hyaluronic Acid is the low molecular weight Hyaluronic Acid. Sodium Acetylated Hyaluronate and Sodium Hyaluronate Crosspolymeris are other variations of Hyaluronic Acid that have better moisture retention and provides longer lasting moisture to the skin. Hydrolyzed Sodium Hyaluronate is a super small, ultra low molecular weight Hyaluronic Acid that can penetrate deeper into the skin layer.
Further down we have a few more hydrating/moisturising ingredients such as Trehalose, Betaine, Propanediol, Ceramide and Beta-Glucan. The formula also includes a few well-known soothing ingredients such as Allantoin, Portulaca Oleracea Extract, Witch Hazel Extract, Madecassoside and Madecassic Acid.
Overall, the ingredients list is quite simple and clean, contains a lot of commonly used, irritation-free ingredients. The formula is free from PEG, essential oils and fragrances.
Colour
The serum has a clear colour.
Scent
The serum is scent-free and has a slight glue-like scent.
Texture
★★★★★
Texture is the star of this product. Contrary to traditional Hyaluronic Acid serums, which can be thick, gooey and sticky; this serum has an extremely lightweight, almost water-like texture that flows well and spreads very far, thanks to the low molecular formula.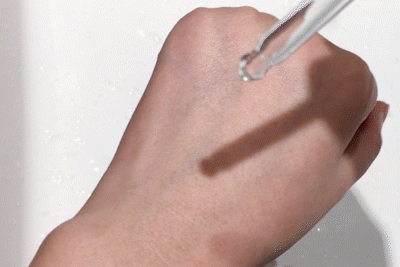 Application
★★★★★
The product glides like water on the skin and absorbs quickly into the skin, without leaving any residue.
Results
★★★★★
The serum is quick-acting. It feels soothing and cooling on the skin, drenching my skin with moisture and instantly calmed down my slightly irritated skin. My skin is well hydrated and plump when using this serum and the hydration extends over the night to the next morning. I can also feel that my skin is lifted and more elastic as it plumps up and becomes fuller. Overall, the serum has improved my skin's texture, elasticity and radiance.
Price
$$
Torriden Dive-In Serum retails for 22,000 Won (~28 AUD) for 50ml of product. I think this is quite a reasonable price for the size and quality of a serum like this.
Verdict
Hydration is the basis of good skin and Hyaluronic Acid is a powerhouse for attracting and retaining hydration within the skin. Torriden Dive-In Serum is a simple and effective Hyaluronic Acid product that's easy to use and your skin will love it for sure!
Where to purchase Torriden Dive-In Serum?
Related Posts