Have you tried a hair scrub yet? If not, you should definitely try it. It has been revolutionary to the health and volume of my hair. Think of it, your scalp is part of your skin, and it's not surprising that it needs some love and exfoliation, just like your face, to keep it healthy. In this post, I'll review the Aromatica Rosemary Scalp Scrub and explain the benefits of using a scalp scrub.
Packaging
Aromatica Rosemary Scalp Scrub comes in a matte green tube. I find the packaging efficient, elegant and feels great in hand. I prefer tubes a lot more than tubs for this kind of product, the last thing I want to do in a shower is to screw open some lid. The product is easy to dispense because it sits upside down. However, if you're a messy user like me, products could be left on the lid and the lid becomes difficult to close. But it doesn't bother me too much.
Ingredients
Sea Salt (Israel Dead Sea Salt), Sodium Chloride (Edible Salts), Sodium Methyl Cocoyl Taurate, Rosmarinus Officinalis Leaf Extract, Pinus Densiflora Leaf Extract, Zingiber Officinale Root Extract, Lauryl Betaine, Lauramidopropyl Betaine, Glycerin, Butylene Glycol, Eclipta Prostrata Extract, Ocimum Basilicum Extract, Coriandrum Sativum Extract, Origanum Vulgare Leaf Extract, *Pelargonium Graveolens Oil(Rose Geranium Oil), *Rosmarinus Officinalis Leaf Oil, *Styrax Benzoin Gum (Benzoin Oil), *Mentha Viridis Leaf Oil, *Citrus Aurantium Dulcis (Orange) Peel Oil, Xanthan Gum, Guar Hydroxypropyltrimonium Chloride, Propanediol, Ethylhexylglycerin, Verbena Officinalis Extract, Chamomilla Recutita Flower Extract, Menthol, Disodium EDTA, *Citronellol, *Geraniol, *Linalool, *Limonene

*Naturally found in essential oils
This product is mainly made with salt. Sodium Methyl Cocoyl Taurate is a salty surfactant with gentle cleansing and moisturising functions. Rosemary Leaf Extract is anti-inflammatory, antibacterial and antimicrobial astringent that cleanses and helps to soothe, energise and deodorise the scalp. Next is Pine Leaf Extract, which is similar to Rosemary Leaf Extract, being anti-inflammatory and antimicrobial. Then we have Ginger Extract, which is again similar to Rosemary Leaf Extract, being anti-inflammatory and deodorising, but also helps with blood circulation and energises the scalp, thus helping with hair growth.
Lauryl Betaine and Lauramidopropyl Betaine are mild surfactant derived from plants. Glycerin and Butylene Glycol are commonly used hydrating agents. Eclipta Prostrata is a native Korean plant for calming the skin. Next on the list are Basil, Coriander and Oregano extracts – sounds like an Italian meal, isn't it. These herbs are like Rosemary, which helps with deodorising and improve the blood circulation of the scalp, in order to promote hair growth. The rest are a few essential oils, preservative and thickening agent.
Overall, the ingredients list is quite clean, there is no alcohol, PEG or silicone involved here. It's heavy on warm, strong flavoured herbs with antioxidant, anti-inflammatory and antimicrobial functions to help cleanse, deodorise and soothe the scalp. The warmth of these herbs help to improve the blood circulation on the scalp and promotes healthy hair growth.
Colour
It has an off-white colour.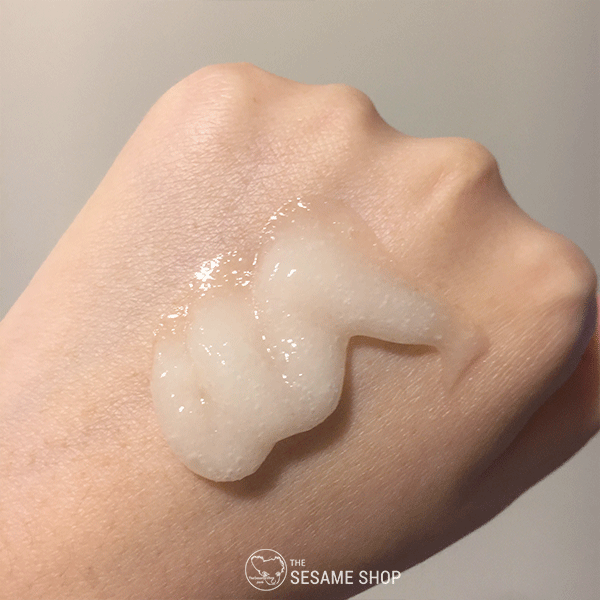 Scent
It has a herbal, menthol and slight citrusy scent. I love the scent, it's strong but not overpowering, feels refreshing and soothing.
Texture
It has a grainy and slimy texture. It spreads pretty far. Melts and doesn't foam too much. Rinses off easily.
Application
I use the hair scrub before shampooing. I wet the hair first and take about a 20-cent coin size into the palm of my hand, then use the fingertips of the other hand to apply the scrub to the scalp. It's important to apply it directly to the scalp rather than the hair. I then use both hands to massage the scalp for a bit. Finally rinse off with running water. The whole process take about 2 minutes.
I wash my hair every other day, and use the scrub about 2~3 times a week.
Results
There are several reasons why I love this product and why you should try it too!
First of all, with the scrub cleansing off the excess oil on the scalp, the shampoo process becomes quick and easy. The shampoo foams up a lot better in the hair and I would use much less shampoo and it gives me a lot of foam.
Secondly, I love how the scalp feels instantly cleaner. It's quite noticeable, you can feel the scalp lighter and more breathable, just like how your face feels after exfoliation. This is combined with the slightly cooling effect of the menthol, making me feel extra clean and refreshed.
Thirdly, it volumises my hair like crazy. My hair is probably double the size compared to when not using the scrub. The hair strands feel conditioned and separates from each other.
Fourth, it reduces my hair fall out. Because my scalp is not greasy, I get a lot less hair falling out when washing and after washing.
Fifth, my hair is less greasy and stays fresh for longer. My hair usually loses its volume and starts to smell one day after washing, but when using the scrub, I can normally endure 2 or even 3 days without washing.
Finally, I do have more hair now! Of course, it's not the sole effect of the hair scrub, but it definitely helps. I've been doing a few other things to help my hair growth and bringing my hairline forward, which has been quite effective. I'll share it in a separate post.
Price
Aromatica Rosemary Scalp Scrub retails for 15,000 Won (~$19 AUD) for 165g of product, which lasts about 2~3 months. It's not your supermarket price for sure but I think it's quite a reasonable price for a well formulated hair product with great (natural) ingredients.
Verdict
You have to try it. Using a hair scrub is an extra step when washing the hair, but the results are well worth it. It took me some time to get into using a hair scrub, but once I'm used to it, I absolutely cannot live without it. I'm up to my second tube of the Aromatica Rosemary Scalp Scrub and will be keep repurchasing for sure.
Where to purchase Aromatica Rosemary Scalp Scrub?
Related Posts