Do you have dry skin that flakes and peels during winter? Do you find your moisturiser not doing much in protecting your skin? Do you find it frustrating that nothing works and you'd rather use petroleum jelly? Keep reading. In this post, I'll review the Cosrx Balancium Comfort Ceramide Cream, which I found to be perfect for dry skins, especially during winter.
Packaging
★★★★
Cosrx Balancium Comfort Ceramide Cream comes in a soft squeeze tube of 80g. This size is about 1.5x larger than a standard 50ml moisturiser, which makes it considerably good value. The opening is large enough that you can easily squeeze out the desired amount without too much effort. The simple lightweight packaging is easy to carry around.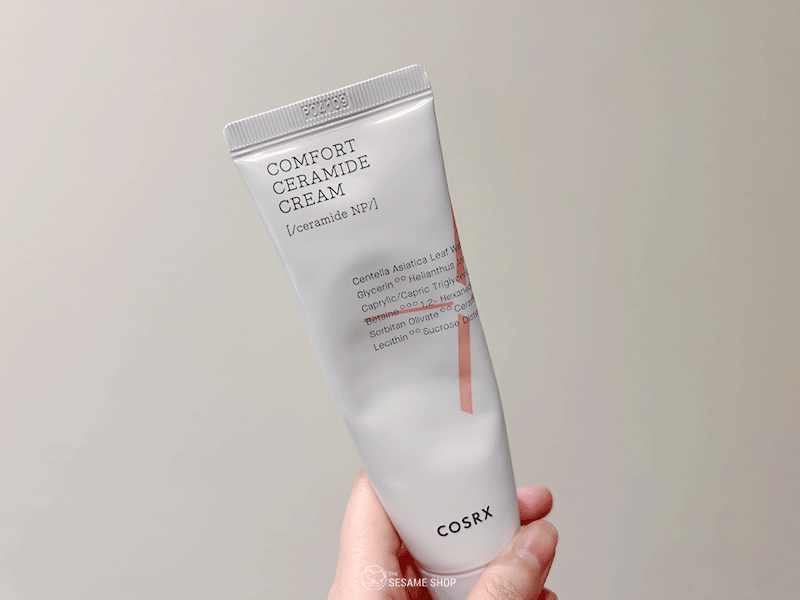 Ingredients
★★★★
Centella Asiatica Leaf Water, Butylene Glycol, Glycerin, Helianthus Annuus (Sunflower) Seed Oil, Caprylic/Capric Triglyceride, Cetearyl Alcohol , Betaine, 1,2-Hexanediol, Cetearyl Olivate, Elaeis Guineensis (Palm) Oil, Ceramide NP, Sorbitan Olivate, Hydrogenated Lecithin, Triethylhexanoin, Beeswax, Elaeis Guineensis (Palm) Kernel Oil, Hydroxyethyl Acrylate/Sodium Acryloyldimethyl Taurate Copolymer, Ethylhexylglycerin, Cyclohexasiloxane, Cassia Obtusifolia Seed Extract, Sucrose Distearate, Dipropylene Glycol, Panthenol, Niacinamide, Dimethicone/Vinyl Dimethicone Crosspolymer, Glyceryl Stearate, Xanthan Gum, Sodium Hyaluronate, Limonene, Citrus Aurantium Bergamia (Bergamot) Fruit Oil, Asiaticoside, Asiatic Acid, Madecassic Acid, Linalool
Instead of water, the cream uses Centella Asiatica Leaf Water as the base, providing the skin with calming and strengthening benefits. Further down the list, is a blend of plant oils and wax which gives the cream its thick buttery texture that offers protection for dry skins. The star ingredient of this cream is Ceramide NP, which helps to restore the skin's natural lipid barrier and strengthens its ability to retain moisture. Other commonly used hydrating ingredients included are Glycerin, Hydrogenated Lecithin, Hyaluronic Acid, and Panthenol that help to replenish the skin's moisture. The cream also contains Niacinamide for micro-exfoliation and skin brightening.
Towards the bottom of the list is Bergamot Oil, which is an essential oil that gives the cream its refreshing citrus scent. Stay away if you're allergic to essential oils.
Colour
Cosrx Balancium Comfort Ceramide Cream comes in a white, slightly translucent colour.
Texture
★★★★
The cream has a thick but soft buttery texture. It's not the milky or creamy texture that most moisturisers have. It feels slightly waxy and oily, reminds me of petroleum jelly, but not as hard or oily. The cream melts quickly upon contact with the skin and turns into a smooth emulsion that wraps around the skin, leaving it feeling moist, protected and softened.
Results
★★★★
My skin feels soothed, moisturised and protected after using this cream. The hydration and protection to the skin is long lasting, so the skin doesn't become dehydrated between applications. My skin always felt soft and moist when using this cream.
I feel this moisturiser is particularly good for dry skins because of its high oil content. Unlike moisturisers with high water content, which tends to evaporate and makes the skin feels dry over time. The oil helps to form a barrier on the skin and prevents moisture loss over time. On the other hand, it's better than pure petroleum jelly because in addition to the oil blend, it also includes hydrating ingredients that helps the skin to attract moisture, which petroleum jelly is unable to achieve. Without the hydration part, the oil sits on the skin's surface and the underlying skin is still dehydrated. But with Cosrx Balancium Comfort Ceramide Cream, the skin is moist underneath, whilst the oil layer helps to retain the moisture.
Price
★★★★★
Cosrx Balancium Comfort Ceramide Cream retails for 23,000Won (~26AUD) for 80ml of product. It's a good price for a moisturiser of this size and quality. A tube will last a good 4-6 months with twice daily use.
Verdict
Give this cream a try if you have dry skin.
Where to purchase?
Related Posts